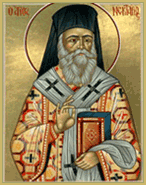 PATRIARCHATE OF CONSTANTINOPLE ARCHDIOCESE OF BELGIUM AND EXARCHATE OF THE NETHERLANDS AND LUXEMBURG

ORTHODOX PARISH OF SAINT NEKTARIOS
EINDHOVEN
We hope to acquire a new church soon!
CALL FOR FINANCIAL SUPPORT OF THE NEW CHURCH
Since 1996 our church is hosted in the chapel of the former convent of the Sisters of Charity. Although we are very happy with this chapel and we feel very much at home, it has become clear that this space has become too small. Certainly during the big celebrations there is not enough space, and even on normal Sundays the church is overcrowded. This situation was, of course, before the corona virus time. The church is at the first floor and the staircase is also a problem for the disabled visitors and parishioners. Therefore, we turned our eyes to the former Roman Catholic Church on the Vlokhovenseweg in the Woensel district, Eindhoven North. This church is about three times larger than our current chapel with the attached coffee room and very well convertible into an orthodox church. Next to the church is a grassy yard where we can have a picnic and the children can play. Below you see some pictures of this church. The idea is, in addition to the building of an iconostasis, to separate a third in the backside part for a coffee room and above with rooms for catechesis and other activities. Furthermore, toilets and a kitchenette will have to be installed. And a new heating installation needs to be installed as well. We are very enthusiastic about this church, the space is not too large and the pillars and vaults make it very homey. We pray daily to Saint Nektarios to ask Christ to make this possible.
For more photos, please look at http://www.kerken.nu/aanbod/vlokhovenseweg-45---eindhoven.
But of course this will cost money. The purchase of the church and adjacent lawn costs 350.000 euros, the renovation is estimated at 150.000 euros. In addition, the heating and insurance will cost much more than for our current location. The Catholic parish may be willing to give a partial credit and there is a parishioner who is willing to make an additional mortgage on his own home which we can then use for the purchase. But that costs money and is not enough. That's why we started a fundraising campaign. There is a model form made which you can print and fill in. After signing, this counts as a contract between you and the parish whereby you can deduct the entire amount of the donation from your income at the tax declaration. This model of the contract has been drawn up from the tax authorities and adapted to this specific purpose. In addition, you will also find a donation button on this page where you can enter any desired amount, once or periodically. Every euro is welcome!
Zowel de schenkingslink als het belastingformulier zijn opgesteld met de Stichting Vrienden van de parochie H. Nektarios als ontvanger van de schenking. Deze stichting is speciaal opgericht met het doel fondsen te verwerven voor de Orthodoxe Parochie Hl. Nektarios. Het enige doel van deze stichting is het financieel steunen van de Orthodoxe Parochie H. Nektarios.
Or use the following QR code for donations via iDeal:
| | |
| --- | --- |
| IBAN: | NL17 INGB 0002370491 |
| BIC: | INGBNL2A |
| | Stichting Vrienden van de Parochie van de Heilige Nektarios te Eindhoven |