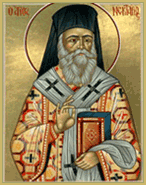 PATRIARCHATE OF CONSTANTINOPLE ARCHDIOCESE OF BELGIUM AND EXARCHATE OF THE NETHERLANDS AND LUXEMBURG

ORTHODOX PARISH OF SAINT NEKTARIOS
EINDHOVEN
According to coronavirus-related government's regulations, only a limited number of people may come to the service. Register here.
PROGRAM OF SERVICES
Tuesday
Registration
20:00
Saturday
Catechesis
16:00
Vespers
18:00
Sunday
Matins
09:10
Divine Liturgy
10:30
Confession for children
At 17:00 every first Saturday of the month
Jesus Prayer
After vespers every second Saturday of the month
Pannikida
After vespers every last Saturday of the month and upon request
During vacation Divine Service is carried out as normal!
---
January
Saturday
1
The Circumcision of Our Lord Jesus Christ.
Catechesis at 14:30
Vespers at 16:00
Sunday
2
Matins and Divine Liturgy
Tuesday
4
Registration
Wednesday
5
18:00 Vespers before Great Feast of The Holy Theophany followed up by Devine Liturgy
The Divine Service will be ended by the Little Santification of water. Please, do not forget to bring a tank for the Holly Water with you.
Thursday
6
Celebration of The Holy Theophany of Our Lord, God, and Savior Jesus Christ (Baptism of the Lord).
9:00 Matins and 10:30 Divine Liturgy
The Divine Service will be ended by the Little Santification of water. Please, do not forget to bring a tank for the Holly Water with you.
Saturday
8
Catechesis at 16:00
Vespers at 18:00
Sunday
9
Matins and Divine Liturgy
Tuesday
11
Registration
Saturday
15
Catechesis at 16:00
Vespers at 18:00
Sunday
16
Matins and Divine Liturgy
Tuesday
18
Registration
Saturday
22
Catechesis at 16:00
Vespers at 18:00
Sunday
23
Matins and Divine Liturgy
Tuesday
25
Registration
Saturday
29
Note: no catechesis
Vespers at 18:00
Sunday
30
Matins and Divine Liturgy
---