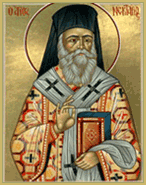 PATRIARCHATE OF CONSTANTINOPLE ARCHDIOCESE OF BELGIUM AND EXARCHATE OF THE NETHERLANDS AND LUXEMBURG

ORTHODOX PARISH OF SAINT NEKTARIOS
EINDHOVEN
According to coronavirus-related government's regulations, only a limited number of people may come to the service. Register here.
PROGRAM OF SERVICES
Tuesday
Registration
20:00
Friday
Catechesis
18:00
Saturday
Hours
08:30
Divine Liturgy
09:00
Vespers
18:00
Sunday
Matins
09:10
Divine Liturgy
10:30
Jesus Prayer
After vespers every second Saturday of the month.
Pannikida
After vespers every last Saturday of the month and upon request.
During vacation Divine Service is carried out as normal!
---
May
Monday
3
Easter Service at 9:00.
Subscribe to this service at VR.Josef 0625061020.
The church will also remain open for several hours after this service.
Tuesday
4
Registration
Friday
7
Note: no catechesis
Saturday
8
Note: no Liturgy
Vespers
Sunday
9
Matins and Divine Liturgy.
Thomas Sunday.
Tuesday
11
Registration
Wednesday
12
The Sacrament of Holy Unction at 19.00
Friday
14
Note: no catechesis
Saturday
15
Note: no Liturgy
Vespers
Sunday
16
Matins and Divine Liturgy
Sunday of the Myrrh-bearing Women and Righteous Joseph of Arimathea.
---